About XSTANCE Lumbar Pillow
Chronic lower back pain, scoliosis, herniated discs, back injuries, and sciatica flare ups can limit quality of life, disturb the sleep, and make simple talks difficult.
The XSTANCE Lumbar Pillow was designed to quickly soothe these painful symptoms from injuries, aging, or overactive lifestyles.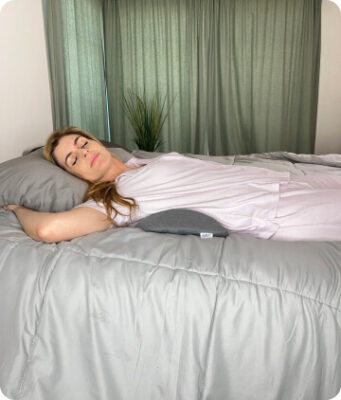 Why Do You Need It?
According to the National Library of Medicine, 80 percent of adults experience low back pain at some time in their lives. It doesn't only limit everyday activities, but also often wakes people up from their sleep when rolling or moving around in bed. Sleep loss from pain can destroy productivity at work, ruin your mental wellbeing, and leave you frustrated and feeling hopeless.
We worked with leaders in sleep science and physiatry to create a solution that works as active therapy for soothing the painful conditions mentioned above. The result? A pillow anyone can use to get a superb lower back support in the night for fully rested, pain-free sleep and a better life.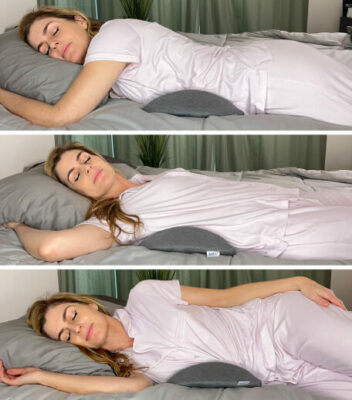 How Does It Work?
The ergonomic wave design gives your spine and waist the support it needs, while slow rebound memory foam adjust to the exact shape of your body. These unique features make your spine perfectly aligned, while helping to distribute your weight equally, and effectively removing the pressure and pain that disturbs sleep. Designed for back sleepers, side sleepers, chair nappers, and sofa snoozers.
Supportive memory foam adapts to the contours of your unique back. Simply place it underneath the back while laying on the bed or sofa. Perfect for back sleepers, side sleepers, stomach sleepers and under-knee support to elevate the legs.
Reduces pressure on hips & back
Eliminates the causes of waking up mid-sleep
Keeps good posture while sleeping
Compensates for poor mattress quality
Decompresses spine & improves mobility
Wake up fully rested and free from pain
Features
Ergonomic lumbar wave design
High-quality, breathable, & moisture absorbing
Removable & machine-washable cover
Slow rebound memory foam that recovers its shape in 4-48 hours
Designed with height & firmness specifically for lower back pain
Multi-functional: Perfect for side and back sleepers to support the lower back and waist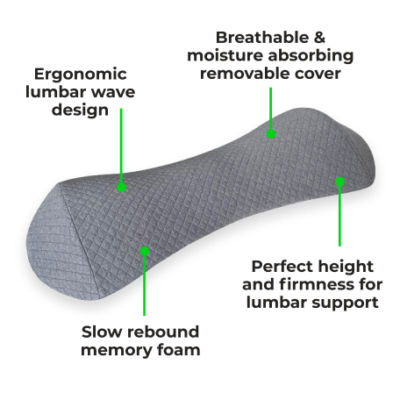 Our Guarantee
Have issues with your purchase? We got your back! Contact us about your problem so we can make it right for you so that you are 100% satisfied with your purchases be it a refund or product replacement.  There is absolutely ZERO RISK buying from this official store.