About VitalKnee™ Therapeutic Pad
If you're suffering from Arthritis, Rheumatism, Weak Knees, Sports Injuries, and any other Knee related Injuries, then VitalKnee™ Therapeutic Pad is perfect for you!
Our VitalKnee™ Therapeutic Pad instantly eases the pain through Heat Therapy! Just wrap it around your knee, turn it on, and relax. The heat relieves your muscle pain, stiffness, and chronic pain.
The VitalKnee™ Therapeutic Pad is perfect for people with: -ARTHRITIS, RHEUMATISM, ANY KNEE INJURIES -CHRONIC PAIN, INFLAMMATION & SWELLING -MUSCLE STIFFNESS, SORENESS, TENSION & FATIGUE.
Features & Benefits of VitalKnee™ Therapeutic Pad
RECOVER FASTER WITH HEAT THERAPY!
Have you ever tried a Warm Bath right after an exhausting activity? And after that warm bath you feel instantly relaxed and better? That's what Heat Therapy does!
Our VitalKnee™ Therapeutic Pad induces heat onto your body to RELIEVE all muscle tension, promote blood flow, and many more! With the comfort and relaxation from our Thermal Wrap, you can for sure sleep better, and be back to your best self faster!
MADE FOR ANYBODY WITH A KNEE!
Had a long day at work? Do you play sports or engage in any physical activity? Lift heavy things on the job or around the house? Sit or stand for long periods of time? Our Thermal Heating Knee Wrap is perfect for you!
The VitalKnee™ Therapeutic Pad is designed for all ages, genders, and body types! Including those WITH and WITHOUT pre-existing KNEE ILLNESS.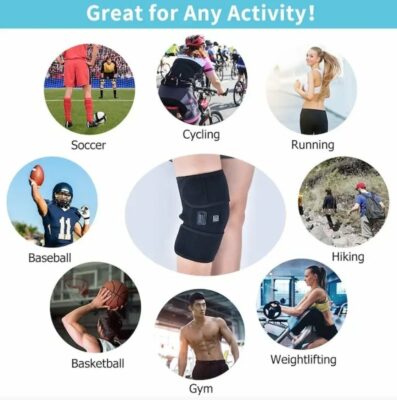 EASY THERAPY FROM YOUR OWN HOME
No need to go to clinics or therapies outside to treat your Knees! With the VitalKnee™ Therapeutic Pad, you can do it right at your home!
Just sit back, relax, put the Thermal Wrap on your knee, and sit back right at your couch! Knee Therapy have never been easier!
COMES WITH MESH POCKET FOR COLD THERAPY AS WELL
You can easily switch out from Heat Therapy to Cold Therapy with the built in Mesh Pocket. Simply turn off the device and insert a Gel/Ice Pack and wear it on your Knee. (Gel/Ice Pack not included in the package)
LONG ENOUGH TO FIT ANY KNEE SIZE
3 SETTINGS FOR YOUR DESIRED LEVEL OF HEAT
Specifications
POWER SUPPLY: 5V USB

SIZE: 47×20 cm
HEATING PAD: 20×30 cm
TEMPERATURE: 96.3-149 °F
Our Guarantee
Have issues with your purchase? We got your back! Contact us about your problem so we can make it right for you so that you are 100% satisfied with your purchases be it a refund or product replacement.  There is absolutely ZERO RISK buying from this official store.