About Tawoow Menstrual Colica Massager
Every woman dreads that time of the month and you hope that the pain and cramps won't be too discomforting or severe that it interferes with her daily tasks or even getting out of bed.
Tawoow Menstrual Colica Massagerr is designed to instantly soothe menstrual cramps with dynamic therapeutic heat & massage therapy.
The combination of heat and massage therapy helps reduce bloating and relax the muscles in your abdomen, uterus, and lower back. It feels like a nice warm massage that hits all the right spots!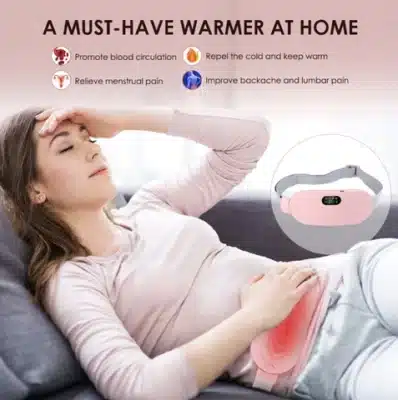 Every woman's new essential best friend!
Designed with a slim, lightweight and comfortable design that stays put wherever you need it most—whether on your back, tummy or lower back— it makes it easy to take with you and wear it discreetly under your clothes so you can get quick relief wherever and whenever you need it.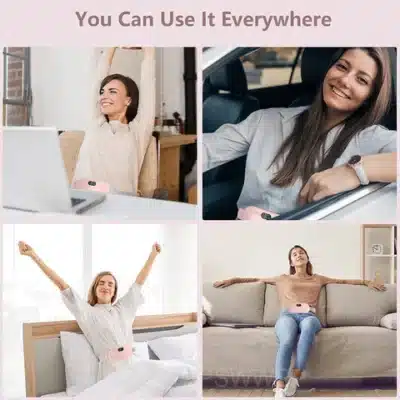 How It Works
Heat therapy works by relaxing the muscles of the uterus, increasing blood flow, and easing pain.
The metal heating film is electrified to release far-infrared rays, which can penetrate deep under the skin to heat up and help promote blood circulation, effectively reducing menstrual pain.
Vibrations have multiple effects on the body, one of which stimulates oxygen to the muscles, which is exactly what you want if your body is under stress or in pain. Vibrations counter the muscle contractions by forcing the muscles to contract and relax.
Say goodbye to those painful cramps!
No need to use a hot pack or hot water bag that gets cold quickly and that you have to hold onto your stomach, limiting what you can do.
Features
Multifunctional warm compress and massage belt for your abdomen, uterus and lower back. It is an essential for all women.
PI metal heating + far-infrared hot compress, 3 seconds rapid heating, large heating area, continuous constant temperature hot compress, and effectively relieve menstrual pain.
Three-speed temperature adjustment (50°C, 55°C, 60°C), and four-speed vibration intensity adjustment to adapt to the actual needs of different groups of people in different states.
Built-in 1800mAh rechargable battery, USB charging. No need for external battery pack and can use without needing it plugged in.
The cover material is made of soft plush fabric, feels nice and comfy on your skin.