About Posturen™️
Of all the things you wear, your posture is the most important!
Poor posture affects your health, confidence and ultimately your mood! Posturen™️ is designed to improve your posture. It reminds you when your posture is incorrect, which helps you get rid of back pain, fix a hunchback and correct your rounded back.
 Product Features
Smart Posture Reminder – When the user's back is bent more than 25 degrees, the back reminder will automatically sense and immediately activate the vibration alarm. This trains your body to adopt correct posture naturally.

Invisible Under Clothes – It's small and you can easily wear it under your clothes.

Comfortable – Posturen™️ is made of lightweight, soft, porous ventilating materials that keep your skin comfortable. High-elastic nylon belt is designed for comfort and won't dig into your skin.

One Size Fits All – You can adjust the size. It's suitable for adults and also kids.

Long Battery Life – Posturen™️ uses a 500mAh polymer lithium battery and can be used for about 15 days after 1 hour of charging. It is easy to charge by connecting USB cable.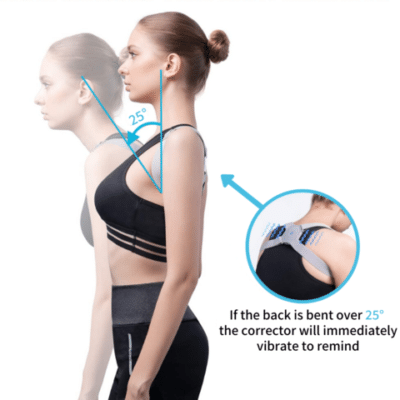 Why Do You Need Posturen™️?
The Posturen™️ is a MUST have for everyone with back pain, hunchback or a round back.
In today's modern world, it's easier than ever to find yourself slouched over a phone or slumped over a laptop for hours at a time. We often get so caught up in what we're doing that we forget to check our posture.
Posturen™️ corrects your posture naturally by building muscle memory and developing the habit of straightening up. 
After several tests, we recommend that users wear the posture corrector for 2 hours per day. After 21 days you will see a significant improvement in posture. In 90 days you will develop muscle memory, which means you'll keep back straight even without the posture brace. 
You can wear it while sitting, standing or walking. We do not recommend using it during a workout.
Correcting your posture may feel awkward at first because, your body has become so used to sitting and standing in a particular way.
How To Use
Specifications
SIZE: Universal and adjustable
COLOR: Grey
WEIGHT: 0,19lbs (85g)
BATTERY CAPACITY: 500mAH/3.7V
CHARGING TIME: 1 hour
BATTERY LIFE: 15 days
PACKAGE INCLUDES: Posture corrector, USB charging cable and user manual
SHIPPING: Free shipping worldwide (10-20 days)