About Bella Skin™ LED Light Therapy Handset
Bella Skin™ LED Light Therapy Handset improves and restores youthful skin in just 4 weeks from the comfort of your home or your money back guaranteed. Clinical skincare has never been more affordable.
Bella Skin™ LED Light Therapy Handset is based on technology developed and used by NASA.
The technology has been around for decades, and is commonly used by dermatologists and aestheticians as an in-office treatment to help reduce inflammation after facials, minimize breakouts, and give an overall boost. However, in-office treatments costs $250 – $350 per session.
With Bella Skin™ LED Light Therapy Handset, you can experience the same benefits and more right in the comfort of your home. "LED light is one of the best treatments because it boosts collagen in the skin, minimizes fine lines and wrinkles, speeds up healing, and increases circulation for that amazing glow."
Now, you can experience radiant & youthful looking skin the natural way thanks to Bella Skin™ LED Light Therapy Handset.
Bella Skin™ LED Light Therapy Handset is your very own at-home light therapy device! So you can get the fantastic results of light therapy, without the expensive treatment costs.

Features & Benefits of Bella Skin™ LED Light Therapy Handset
Renew Skin Cells – Bella Skin™ LED Light Therapy Handset uses radio-frequency waves and light photon energy which will give your skin a warm massage all while promoting skin rejuvenation of collagen and hyaluronic acid by conducting muscle stimulation and mesoporation.
Target Fine Lines & Wrinkles – Using EMS micro current technology, our device stimulates the production of collagen, elastin and accelerates blood circulation increasing skin firmness, targeting wrinkles and reducing swelling for healthier-looking skin.
You Become Ageless – This FDA Registered facial device lets you defend aging and get rid of sagging neck and face, puffy eyes, furrow lines, crow's feet (eye wrinkles), dark circles and face wrinkles if you have any or prevent those from occurring.
Only 10 Minutes Per Day, 3 Times a Week – Maintain the health of your skin with just only 10 MINUTES of use per day! This device will make your skin routine better than ever!
Save Thousands of Dollars – Don't bother burning money on various face treatments at Salons/Spas every few weeks. This device is the best one-time investment that will keep your skin rejuvenated for years.
Portable and Rechargeable – The slim portable design and rechargeable battery makes this the perfect home or travel beauty accessory. With Bella Skin™ LED Light Therapy Handset in your makeup bag, your skin will look radiant wherever you are.
Suitable for All Skin Types – Dry, oily, combination, and even the most sensitive of skin can be . comfortable using Bella Skin™ LED Light Therapy Handset.
How Bella Skin™ LED Light Therapy Handset Works
Scientifically proven and voted the best non-surgical face-lift treatment for smooth and clear wrinkle free skin. Bella Skin™ LED Light Therapy Handset uses low level light technology and high frequency Electro-magnetic pulses to increase your skin cell's proton gradient via the flow of electrons through cellular transmembrane complexes it stimulates your skin's Fibroblast, Keratinocytes and Immune cells which significantly raises your Skin's Collagen Density and thereby dramatically fixing your skin's Roughness Profile, giving you completely Even Skin Tone, Reversing all signs of Ageing and Flooding your Skin with a Natural glow.
It is guaranteed to reverse ageing and clear your skin within 28 days of consistent use or your money back, no questions asked!
Why Do I Need This
As you get older your skin changes. Many factors contribute to this –
1. Genetics
2. Bad Sleep Patterns
3. Stressful Environments
4. Hormone imbalances (Teenage years or during Menstrual cycle)
5. Alcohol and Smoking etc
Your Skin starts to show signs of your age – it gets less Springy & Sags around your Jaw Line; Collagen reduces along with Skin Elasticity, lines begin to deepen around your eyes, nose and cheeks as well as loose skin around the neck. The primary cause for skin losing its youthfulness or sudden breakouts is ageing & damaged Skin Cells.
How To Use In 4 Easy Steps
1. WASH– Gently cleanse your face and pat dry with a clean towel. Apply all creams and serums.
2. CONNECT – Pick up your Nourish Belle™ from the charger and turn it on.
3. USE– Choose your LED light, and the level of intensity on the device.
4. MOVE – Move the device slowly and smoothly around your face and neck area. Make sure to move the device upwards to lift your skin for maximum results.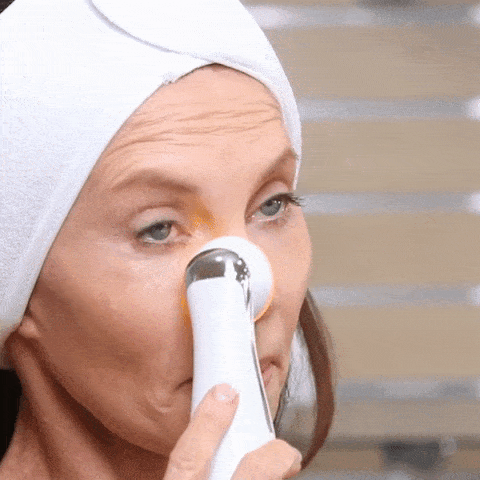 Frequently Asked Questions
Is it safe to use ? – Bella Skin™ LED Light Therapy Handset is FDA approved and is 100% safe to use with no side effects. It is non-toxic, non- thermal, non-UV and non-surgical.
Does it work ? –100% Yes!, Bella Skin™ LED Light Therapy Handset photon technology is based on over 4 decades of research and 1000's of real patients. It is based on light technology developed at Nasa to heal wounds!

Does Bella Skin™ LED Light Therapy Handset help with Dark Spots and Uneven Skin tone ?– Yes, using specialised wavelength light it completely eliminates dark sports and dramatically transforms skin tone, giving your a perfectly even complexion in under 2 weeks and flood your skin with a youthful glow that lasts!
Does Bella Skin™ LED Light Therapy Handset remove wrinkles, fine and deep lines ? – Yes, Bella Skin™ LED Light Therapy Handset is purpose-built to restore your youthful skin. In 98% of cases, it has shown to completely remove fine lines and wrinkles within 3 weeks and a 100% of cases after 4 weeks of use.
Does Bella Skin™ LED Light Therapy Handset boost collagen, skin firmness and skin elasticity? – Absolutely! It raises your skins collagen density, through the process of cellular respiration. This dramatically boosts collagen, unlike any external treatment on the market. Your skin will feel lifted and toned with each use.
Does it help with Acne, Sudden breakouts and scarring? – Bella Skin™ LED Light Therapy Handset, was designed to be a permanent cure for Acne, especially preventing breakouts by controlling sebum production and kill acne-causing bacteria beneath the skin's surface. Through routine use, it will fade away scarring, with noticeable results in as little as 6 days.
How often should I use Bella Skin™ LED Light Therapy Handset? – We recommend you use Bella Skin™ LED Light Therapy Handset for a minimum of 15 mins each day in a single session and continue using the device for a period of 3 weeks to 1 month for a 10-year transformation like effect.
How quickly will I see results ?– You will feel the difference from your first use! And will start to notice results in as little as 6 days.
Does it work for Oily skin types? – Yes, as it targets skin cells that are below the surface layer of your skin, it is suitable for all skin types.
How to use it? –  We recommend using it on dry clean skin. You can choose to use it alongside a serum, however, this is not required.
Your Package Includes
1 x Bella Skin™ LED Light Therapy Handset
1 x Charging Base
1 x USB Charging Cable
1 x English User Manual
Our Guarantee
Have issues with your purchase? We got your back! Contact us about your problem so we can make it right for you so that you are 100% satisfied with your purchases be it a refund or product replacement.  There is absolutely ZERO RISK buying from this official store.