About LumbarMate™
LumbarMate™ is a 360 degree wrap around belt designed to provide compression for the lower back. It relieves lower back pain and improves stability with specially contoured lumbosacral steel and flexible support plates. These plates are removable and can be slotted into a back pocket built into the belt.
WHAT IS LumbarMate™USED FOR?
LumbarMate™ relieves lower back pain caused by
Bulging or herniated discs
Sciatica
Scoliosis
Strains and sprains
Osteoporosis
Piriformis syndrome
Loose ligaments
Degenerative Disc Disease
And many other conditions
CONTOURED STEEL LUMBOSACRAL SUPPORT
The Steel Support Plates and Double Side Splints are contoured to follow the spine's curvature, adding stability to the lumbosacral region, preventing twisting movements that aggravate injury. Double pull tension straps pull the plate forward for a strong and firm support, correcting your posture, and relieving pain from pinched nerves.
SELF-HEATING PADS FOR HOT COMPRESS THERAPY
LumbarMate™ includes a removable self-heating tourmaline pad that provides hot compress therapy to improve blood circulation, allowing nutrients and oxygen to flow to joints and muscles. This helps repair damaged muscles, relieves inflammation, and reduces back stiffness.
PROTECTION FROM INJURY
LumbarMate™ keeps your back straight, prevents excessive bending, lifting and twisting movements, protecting you from injury.
COMFORTABLE AND BREATHABLE
LumbarMate™ is made of high strength, durable material, with a breathable mesh structure, allowing air to circulate, keeping you cool and sweat-free, even after hours of wearing.
PACKAGE INCLUSIONS
LumbarMate™ back brace
Steel support plate and splints
Flexible support plate and splints
Self-heating pad
Breathable mesh pocket pad
Warm velvet pad
MEASUREMENT AND SIZE GUIDE (IMPORTANT)
Using a soft measuring tape, measure your abdomen as per the diagram below, then refer to the sizing chart with your measurement. Remember to select the correct size before placing your order.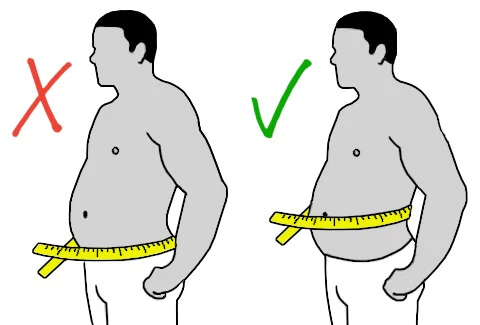 | | |
| --- | --- |
|  If your measurement is this | Choose this size |
| 27.5 – 34.3 inch / 70 – 87 cm | S |
| 34.6 – 38.5 inch / 88 – 97 cm | M |
| 38.6 – 42.1 inch / 98 – 107 cm | L |
| 42.5 – 46.1 inch / 108 – 117 cm | XL |
| 46.5 – 50 inch / 118 – 127 cm | 2XL |
| 50.4 – 53.9 / 128 – 137 cm | 3XL |
FAQ
Q: How can LumbarMate™ help me with my back pain?
A: LumbarMate™ has a steel plate for support. The plate is curved to follow the spinal curve. As you wear it, the plate pushes against your spine, keeping you straight. This posture reduces pain caused by pinched nerves. It also includes a self-heating pad to help reduce inflammation and improve blood circulation.
Q: How is LumbarMate™ different from the others found elsewhere?
A: Back braces found elsewhere mostly lack any rigid support. Some may have soft plastic strips, which are ineffective. They also lack any heating function. Other belts may have inbuilt heat pads, but do not offer any support. LumbarMate™ offers the best of both worlds – a steel plate for lumbar support, as well as a heat pad for heat therapy. Both of them are removable, so you may wear the belt in any configuration.
Q: Is it machine washable?
A: Do not wash with a washing machine. Remove all the pads and steel plates, then wash with warm water and soap, and air dry.