About LuckySpine™ Neck Traction Device
LuckySpine™ Neck Traction Device is a unique orthotic device.
What does it mean? Simply speaking, it means that LuckySpine™ Neck Traction Device cares for both health and relaxation. As a cervical traction device, it focuses on the spine – it helps to restore the right cervical spine alignment.
Enjoy the blissful, tension-releasing massage every morning or evening without leaving your bedroom.
This portable neck traction device comes at a price that won't hurt the wallet.
It has been designed and recommended by chiropractors as an effective way to get pain relief when you need it most.
For less than 1/5 of the cost of one therapist treatment, you can get results that last a lifetime.
What are the benefits of using LuckySpine™?
✔ Instantly eliminates neck and shoulder pain (feel the result after first 10-minute use)
✔ Saves you lots of time and money (no need to visit chiropractors nor take painkillers anymore)
✔ Strengthens your posture (so you can stand with confidence)
✔ Relieves your stress (improve quality of sleep and life overall)
Why does it work so well?
Neck Traction Device by LuckySpine™ is a new chiropractor-approved pain relief massager, that has its unique technology.
After months of development, we have identified three main factors that not only relieve pain in a short time but also eliminate the causes of pain and improve the quality of life overall.
These factors are:
– Acupressure,
– Sub-occipital muscle stimulation,
– The three-way system of cervical traction.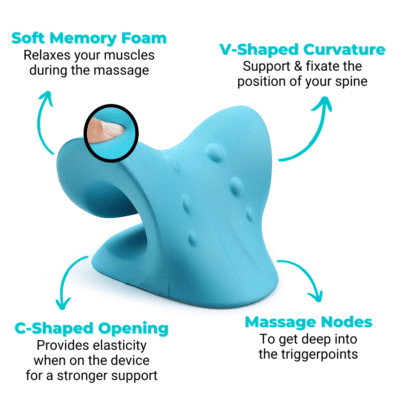 How does it relieve my neck and shoulder pain?
Due to a combination of three factors, Neck Traction Device by LuckySpine™ deals with the root cause of neck and shoulder pain, headaches, and poor posture.
Firstly, the combination causes the deep muscles in the neck to reset and return to a relaxed state, and then, allows compressed discs to open and relax.
This leads to:
– Relieving pressure on pinched nerves,
– Decompressing discs,
– Improving posture,
– And filling the neck area with nutrient and oxygen-rich blood.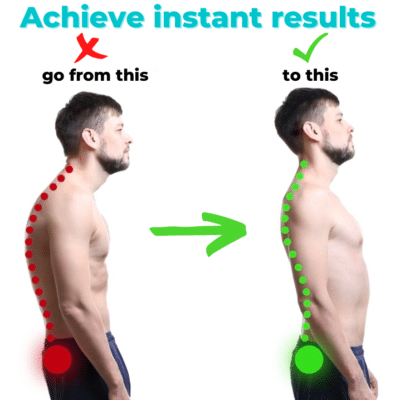 How to Use LuckySpine™ Neck Traction Device?
1. Lay the Neck Traction Device on the ground.
2. Slowly place your back down followed by your neck.
3. Place your arms over your head and then bend your knees.
4. Feel the massage and relax for 5 minutes.
Please note that LuckySpine™ Neck Traction Device has 2 levels of use:
1. The convex side – allows people with low flexibility and/or severe pain to start out slowly without increasing the tensions on the neck too much. For those who are just starting out.
2. The concave side – allows the greatest stretch using the c-shaped opening to allow the user to push a stretch beyond the point of pain for maximum effectiveness and deep tissue stimulation. For advanced users.
Our Guarantee
Have issues with your purchase? We got your back! Contact us about your problem so we can make it right for you so that you are 100% satisfied with your purchases be it a refund or product replacement.  There is absolutely ZERO RISK buying from this official store.