About Leg Shredder Pro™
JUMP SKY HIGH
These revolutionary resistance bands will help improve your vertical and strengthen your leg muscles quickly.
TRAIN AT EVERY LEVEL: 4 DIFFERENT INTENSITY LEVELS
It will outperform any traditional vertical trainer while maintaining its integrity.
Engineered to target specific muscle groups that are linked directly to your vertical jump. 
EFFICIENT
With it's diverse load of 50-80 pounds, this device targets specific muscle groups that are directly linked to increasing your vertical jump.
MULTIFUNCTIONAL
Perfect for a variety of different leg exercises that will help improve your performance in many different sports including Basketball, Volleyball, Track & Field, and more!
HIGH-QUALITY
Made from High-Grade naturally imported latex that's reinforced by a wired tube making it durable and reliable. 
IMPROVE YOUR PERFORMANCE EVERYWHERE
No matter where your are, you can always put an extra layer of resistance to hit your desired muscle groups harder & faster then ever.
GYM, FOOTBALL, BASKETBALL ,VOLLEYBALL, MARTIAL ARTS, RUNNING,…
INTENSIFY EVERY EXERCISE
Build muscle FASTER by intensifying your Leg exercises with the Leg Shredder PRO™. 
WHAT'S INCLUDED?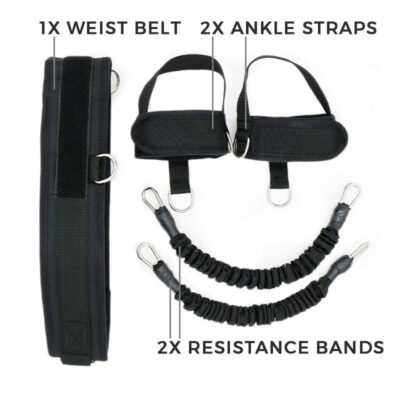 ONE SIZE FITS ALL
THE ELEMENTS INCLUDED ARE DESIGNED TO FIT EVERY PERSON
Waistband: Micro adjustable with Velcro up to 39 inches (99 cm)
Ankle Straps: Micro adjustable with Velcro