About Hearvix™️
The Hearvix is a high tech solution to hearing problems that stays charged for hours on end, something which has allowed us to change the lives of millions all around the world!
Our smart hearing devices generate a mimicking effect in your ear canal, ensuring they are nice and snug without any discomfort. You can expect crystal clear hearing, with supreme comfortability all day long, no matter the situation due to the use of advanced technology.
Features
Comfortable – Crafted from safe silicone, they are extremely flexible and perfectly sized! You'll be able to wear them the whole day without any discomfort. 
Noise reduction – Uses smart detection to identify when someone is talking to you and then subsequently reduces background noise so you can hear properly 
Tinnitus masking – Wave goodbye to the ringing in your ears. Our hearing device targets this issue at the root to help you overcome it!
Nearly Invisible – There's nothing worse than big and bulky hearing devices. Ours are designed to be unnoticeable, fitting just inside your ear canal without sticking out. 
Music and TV – Watching TV and listening to your favorite songs just got a whole lot better (and more fun). No longer need to strain to hear. 
Save money – We promise innovative hearing devices at a fraction of the price! No need to pay thousands of dollars. We cut out the middleman. 
Easy removal – The tiny wire attached to the top of the hearing device makes it simple and easy to remove them from your ear. Just give it a little tug.
Replaceable accessories – If you need new earplugs, new wax guards, you accidentally break the battery door, or lose the cleaning brush, we sell affordable accessories and replacement parts to ensure your Hearvix™ remain in great shape. 
Package Includes 
1 x Protective Carry Case
1 x A10 Battery (Small in size, please check it carefully when opening the package) (To get more batteries, click here)
1 x Cleaning Brush;
3 Ear Domes (small, medium, large)
1 User Manual & Instructions
12 months repairs & replacement warranty
30 day risk-free money back guarantee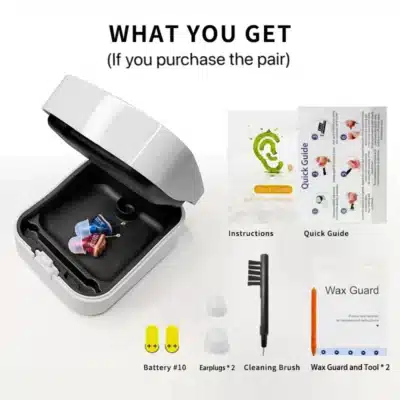 FAQ
Will Hearvix Invisible Hearing Aid work for me without being tested?
Certainly. This product works perfectly for 98% of customers. A hearing aid is not just a tool to make sounds louder, but also adjusted for your hearing loss.
Is this suitable for my ears?
We offer 3 different sizes (small, medium and large) earplugs for each type of hearing device, ensuring that 99% of our customers can wear them snugly.
Do these hearing aids whistle?
Any device which put speakers and microphones so close may produce a "whistle" sound. However, you can completely minimize or eliminate howling by following steps:
– Choose a slightly larger earplug that fits the entire ear.
– Put the hearing aid on your ear before turning it on.
– When turned on, start at the lowest volume, then slowly increase the volume as needed.
Do you have any warranty?
Our product is manufactured with high-quality industrial parts designed to last. If any malfunctions occur, your limited warranty covers 1 year.