About FlexBrace™️ Shadow Series Compression Knee Brace
Have trouble with your knees so much that you can't stand, walk, or function properly like you used to?
This Game-Changing Knee Compression Sleeve helps alleviate knee pain, provides support for weak or injured knees, and provides compression to reduce swelling – not to mention that it's breathable and comfortable for all-day, everyday wear.
More than just a lightweight compression knee sleeve, our Shock-Absorbing Knee Sleeve uses 3D Compression & Support Technology to help alleviate knee pain, recover faster, and help reduce stress and injury risk without compromising mobility, so you can get back to doing the things you love.
Relieve Knee Pressure with Stabilizer Springs
Help your knee spring back up with double-sided flexible metal stabilizers that are tightly and securely woven into the side of the knee sleeve to help provide support and stability to your knee joint during powerlifting, squats, running, walking, yoga, or any other physical activity.
Protect Your Knee From Shock
3D knee support technology uses an ergonomically contoured silicone patella gel pad to surround the knee cap and provide extra protection from shock, collision, pressure, and injury, as well as relieving pain and swelling, improving blood circulation and promoting recovery.
Reduce Stress & Injury Risk
Designed to promote healing, reduce stress, and help prevent injury. Stabilize joints and muscles while wearing it every day. Lightweight, breathable, comfortable, & moisture-wicking, with no discomfort or irritation.
Non-Slip Silicone Grip
Upgraded anti-slip silicone strips inside the compression sleeve prevents slipping and rolling during regular everyday use and wear.
Breathable for Everyday Wear and Sports Wear
Perfect for alleviating knee pain while walking, running, cycling, gym exercising, playing ball sports, hiking, and every day physical work.
How Long Before Seeing Results?
The compression and stabilizing effects can be felt immediately upon putting on the knee brace. Once on, wear it for a couple of minutes to get used to it and allow yourself to feel the difference while wearing it.
Size Chart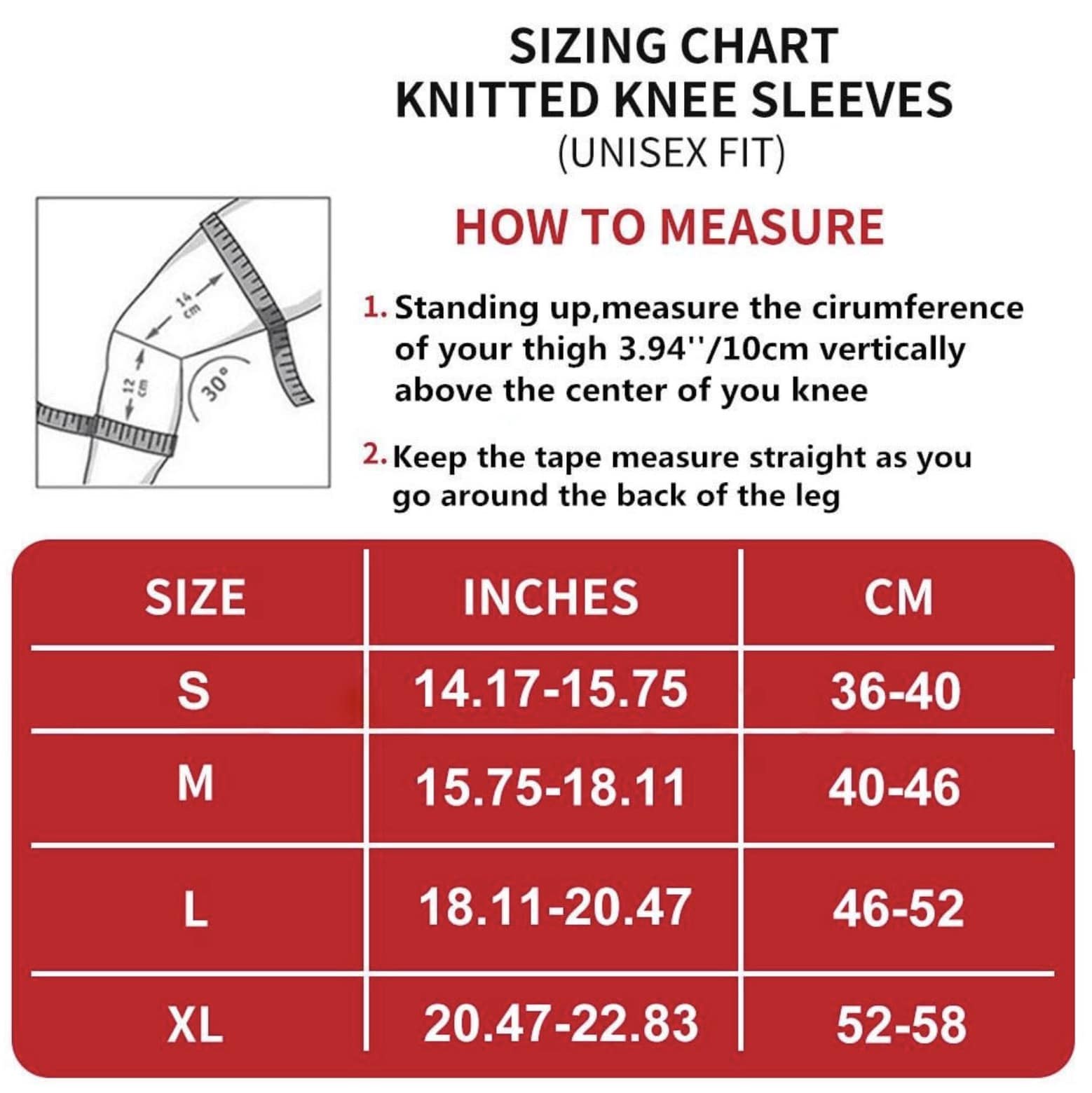 FAQs
Does this help for knee pain?
Yes, the high elastic fabric compresses the knee, providing increased blood circulation, keeping your knee warm and lubricating your joints.
In addition to knee support, would this help protect the knee cap from ground/turf skids?
Yes, the knee gel pad is made of silicone with high elasticity to help protect against injuries from falling down, collisions, and impact.
Does this contain latex?
No, it does not contain latex.
Can these be used on any knee or is it left/right specific?
Our Knee Compression Braces are not side specific, so you can wear them on either knee and even interchange them if you'd like.
What's your return policy?
We offer a 60-day, no risk, 100% money back guarantee with easy returns in case you don't like it.