ABOUT EyeShield™ V1
PROTECT YOURSELF AND YOUR LOVED ONES FROM HARMFUL BLUE LIGHT
Staring at a screen all day causes dreadful headaches, dry eyes and sleepless nights. Say goodbye to all of that and discover ultimate protection with the EyeShield™ V1.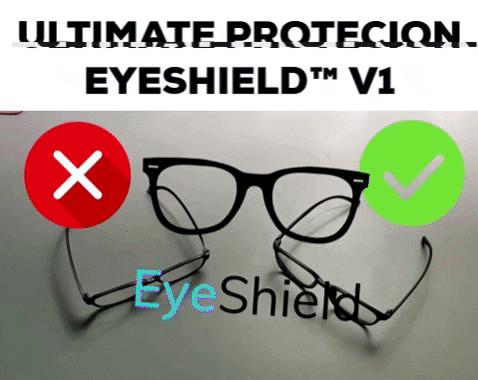 "I get bad headaches and dry eyes from watching Netflix all day, so I ordered a pair to try. Immediately, the tension in my head and eyes were gone. GONE. It's a lifesaver for sure!" – Jessie H.
FEATURES
ALL-DAY PROTECTION: Provides 24 hour protection against the detrimental effects of high energy blue light.
IMPROVE PERFORMANCE: Get more work done with ease. No more headaches and fatigue.
NANO-GRADE EYEWEAR: Smudge & oil resistant nano-film covers both sides of the lenses for clearer vision & perception.
NO HARSH YELLOW TINT: Our V1 lenses maintains a clear coat finish for optimal viewing quality and protection.
SUITABLE FOR ANY OCCASION: Suitable for office, reading, gaming and even normal daily screen usage. Perfect for just about anyone!
ERGONOMIC STYLE: Our ergonomic and timeless design ensures you can wear it anywhere you want while looking good in the process.
HIGH DEMAND: Most orders arrive in 7 to 18 business days.
SATISFACTION GUARANTEED: If something is wrong with your order, you can quickly contact our helpful customer support team to get a refund.