About Dr. Slouch™ Kids Smart Posture Corrector
CORRECT YOUR CHILDREN'S POSTURE IN UNDER 1 WEEK 
FIXING BAD POSTURE AT THE EARLIEST AGE IS THE KEY TO A PAIN-FREE FUTURE FOR YOUR CHILDREN 
Prevents Chronic Neck and Back Pain

Promote Natural and Healthy Posture

Permanent Posture Correction (Mind and Muscle training)

Ergonomically designed for Supreme comfort

One size fits all (Adults & Children)

10,000+ Happy & Healthy Children 
You can't put a price on your children's posture. The Dr. Slouch Smart Posture Corrector has been shown to improve posture in 1 week or your money back guaranteed!
HOW IT WORKS
Immediate Posture Correction
Help correct your child's posture immediately and build long-lasting good posture habits
Healthy Posture Position
The Dr. Slouch Smart Posture Corrector gently holds your child in a healthy posture position with an upright upper back and a natural inward curve in the lower back.
Accurate Posture Detection & Correction
The Precision Sensors sends out a gentle vibration reminder whenever bad posture is detected. 
WHY DOES MY CHILD NEED THIS? 
Every parent knows that poor posture is bad for their child's long-term health, but the health risks are often overlooked.
"Improper posture can lead to increased strain on the muscles, ligaments, joints and bones. As a child is growing, bad posture can lead to abnormal positioning, abnormal growth of the spine and, ultimately, increased arthritis later in life." – Christopher N. Redman, MD (Paediatric Orthopaedic Surgeon)
Studies have shown that children with poor posture can develop severe health conditions including:
Reduction in cardio-respiratory efficiency

Decreased vital capacity of the lungs

Development of chronic back pain

Displacement of internal organs
The Dr. Slouch Smart Posture Corrector is guaranteed to improve your child's posture within 1 week of consistent 2-hour daily use or your money back, no questions asked!
SEE A DIFFERENCE IN 1 WEEK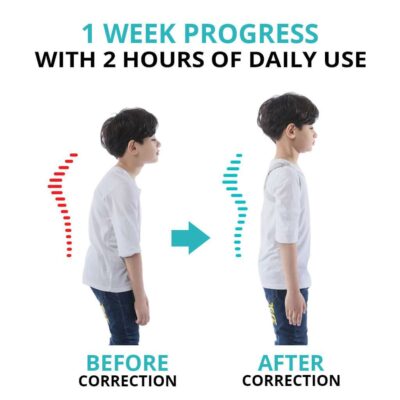 Mind & Body Training
The Dr. Slouch Smart Posture Corrector's effectiveness lies in its ability to train both your child's body and mind to develop a habit for good posture.
Effortless Posture Correction
It's like having your personal Pediatrician constantly correcting and reminding your child to stop slouching and sit or stand up straight.
Natural Posture Development
With consistent use, your child will be needing the Dr. Slouch Smart Posture Corrector less, as maintaining good healthy posture will come naturally to them. 
REVOLUTIONARY DESIGN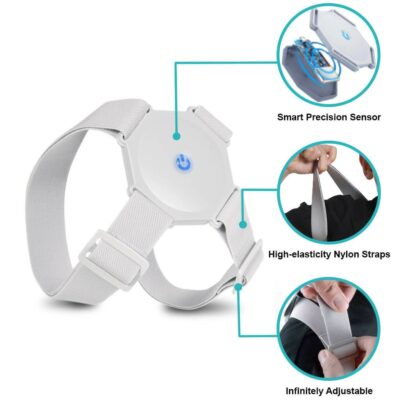 Ergonomic Design
The Dr. Slouch Smart Posture Corrector is ergonomically designed to stabilize and support your child's spine and return their body back to its natural posture position.
Advanced Precision Sensor
The gentle vibration reminders sent out by the advanced Precision sensor trains your child's mind to develop a long-lasting habit for maintaining good posture.
Preventing your child from slouching and developing poor posture habits have never been so easy!
IT'S A FAMILY EFFORT!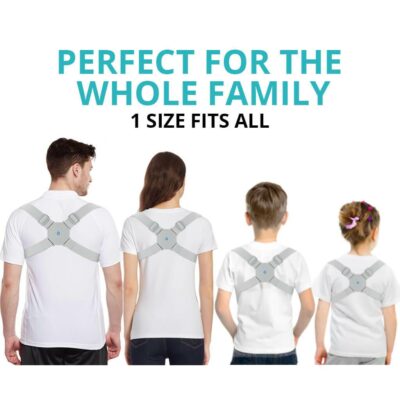 Lead by Example
We all know that children lead by example, and as parents, demonstrating good posture is critical for your child's development of good posture habits.
Perfect for Adults & Children
Ergonomically designed to be One-Size-Fits-All, perfect for both Adults and Children. We strongly recommend parents join in on building healthy posture habits together with your child.
Make it FUN!
Why not make it into a game to see who can go the longest without the Dr. Slouch Smart Posture Corrector vibrating?
Be creative with it! Who said developing good posture habits can't be fun? 
TECH SPECS
Here's why the Dr. Slouch Smart Posture Corrector is the perfect Posture Corrector for you and your children
PRECISION SENSOR
The State-of-the-art Precision sensor is carefully positioned to accurately detect poor posture and when the body is misaligned by 25 degrees or more.
BATTERY
The 500mAh rechargable Polymer Lithium battery is easily recharged using an USB cable. A single 2 hour charge will last 15 days of use.
DESIGN
Ergonomically designed to be One Size fits all and supremely comfortable to wear for both Adults and Children.  
MATERIAL
Made with high-elasticity Nylon and soft, breathable and lightweight porous material
HOW TO USE
The Dr. Slouch Smart Posture Corrector is carefully designed to be very easy to use, it's just like wearing a Backpack. The sleek and easy-to-adjust design allows your child to comfortably wear it anywhere, without them feeling embarrassed or self-conscious.