About DozeMAX
DozeMAX is a bracelet that a person could wear whenever they are sleeping to diminish their snoring gradually. Because it reduces snoring and allows the user, and especially those they share a bed with, a restful and happy sleep, it is the best snoring device on the market.
Suppose you do your homework on the DozeMAX wristband. You will understand that thousands of positive feedback on the internet and the manufacturer's official site attest to its productivity.
DozeMAX is a sleep-inducing bracelet that uses a high-tech biosensor to detect snoring. It is designed so that when the snorer snores, a gentle pulse is sent to the snorer's wrist to prompt them to change position.
Thanks to the sensors' ability to detect snoring and send an electrical impulse to the snorer's wrist, this top-class device ensures almost restful sleep. It is unobtrusive and has an automatic battery cut-off function that extends the life of the battery in the device. It is also constructed to offer a high level of comfort and is easy to use.
Features Of DozeMAX 
  By using the appropriate adjustability, it is adjustable on the wrist

  It doesn't make so much noise anymore that it doesn't bother anyone except the person

  After a dreamy sleep without the roaring sound, the sweet relationship between you and your companion will continue

  It looks classy and you can even use it in public

  The item gives the user a fashionable look that everyone likes

  It is easily wearable and almost invisible after a while, which doesn't cause any additional stress to the person

  The bracelet is not tied to any aspect results related to your health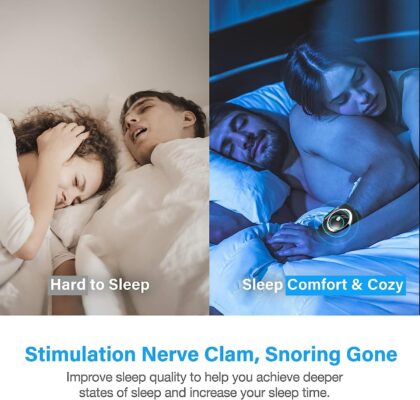 Why Do You Need DozeMax?
Snoring can cause distress to family members and friends. If the other person is a very light sleeper, snoring will prevent him or her from getting a good night's rest, will cause lack of energy during the day, and can also affect the relationship between you for a long time.

Snoring also affects your own sleep quality and physical health. It can cause dry mouth, headaches, dizziness, lack of oxygen in the blood and other cardiovascular and cerebrovascular diseases. In the most severe cases, it can even lead to suffocation. It is therefore urgent to solve the problem of snoring.
Our Guarantee
Have issues with your purchase? We got your back! Contact us about your problem so we can make it right for you so that you are 100% satisfied with your purchases be it a refund or product replacement. There is absolutely ZERO RISK buying from this official store.