About Cleopatra LED Light Mask
Developed by a group of renowned scientists using the same technology used by NASA, Cleopatra LED Light Mask is a non-invasive technology that is proven to be the most effective skincare device to date.
It also enhances skin texture, stops wrinkles from forming, and tightens skin. This LED light therapy technology mask can solve stubborn skin problems, heal acne and repair acne scars. Most importantly, it is 100% safe to use with no negative or harmful side effects.
It is a new LED mask solution that is proven to show visible results in just 2 to 3 days. Appointments and long waits are no longer needed because of this new technology that everyone is going crazy about.
These non-heat-producing natural lightwave LED lights are safe, gentle and do not irritate the skin. 
The led lights penetrate your facial tissue to promote collagen, clear and tighten skin while reducing lines and wrinkles. Use this treatment daily to notice an immediate improvement in the composition of your skin!
How Does Cleopatra LED Light Mask Work?
The Cleopatra LED Mask is armed with a suite of 192 High Density LEDS that ensure not a single spot is missed. In most cases the Cleopatra has more than DOUBLE the amount of LEDS.
The competition spaces out their LEDS resulting in missed coverage as well as no neck coverage.*cues sad trombone noise*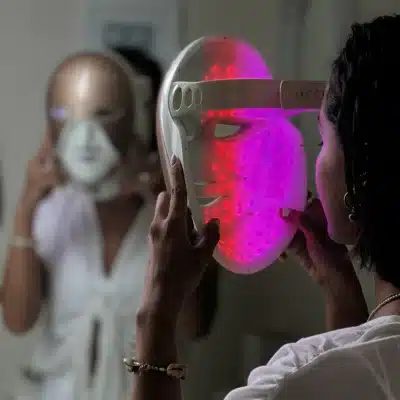 How to Use Cleopatra LED Light Mask